Yasuyuki Okamura once said that he started recording songs in high school, and would carry around a demo tape or two in case he had an opportunity to give someone important a copy. Something like that must have happened, because by 1986 right before turning 21, he stepped onto the scene with a single, "Out Of Blue". He was part of Sony summer tours until month later, when this appeared...
Yellow / イェロー
Original Release Date: March 21, 1987
Runtime: 39 minutes, 44 seconds
Producer: Youji Kosaka, Kazuyuki Kobayashi
Director: Takashi Hayakawa, Kazunori Oomoto
Arrangement: Yasuyuki Okamura, Akira Nishihira
Recorded By: Tatsuya Sakamoto, Kazue Sonoda
Mixer: Larry Alexander (2,3,4,8), Tatsuya Sakamoto (1,5,6,7,9)
Most Instruments Played By: Yasuyuki Okamura
Recording Date: February 1986 to January 1987
Released By: Epic/Sony Japan Inc.
Nine tracks in all, including the two singles he'd put out months prior, but not the b-sides. As a single piece of eighties J-Pop, it's a solid release, and as an Okamura album it's an interesting look into his style...while later albums of the eighties would feature Yasuyuki living out a Prince-like persona, this is all Yasuyuki.
Most early editions of the album included a double-sided poster (which mine came with). One side showed twenty-one-year-old Yasuyuki standing in front of a backdrop much like the pattern on the album cover, and the other side featured nine squares of him dancing or posing on the set.
Note: Japanese lyrics for the songs on Yellow are really hard to find online, so I've done what I can with translations from listening and the lyrics booklet alone.
1. Out of Blue (4:34) - There's not much I can say about this song other than how it's considered an Okamura classic...the music is close to typical J-Pop of the time, but his voice is all natural aside from his trademark "WOO!" here and there. This was released as a single with a b-side called "Thousand Years Of Pain", which I'll get to later.
There are two accompanying music videos, the first where a very young-looking Yasuyuki starts a record player on a rooftop and walks from roof to roof, also passing through a busy Tokyo street and soaring around in a Disney Teacup Ride. The second is a blue-lit set where Yasuyuki is dancing while a film director stands by, and a number of other actors come on, one including a couple getting engaged. At one point it rains over him. Did I mention Yasuyuki's only wearing a longcoat and pants in this?
2. Young Oh! Oh! (5:02) - The second pre-Yellow single, also one of the most intensely upbeat songs on the album. It's got romantic themes, and like a lot of his songs from this era, he's on the losing end and trying to convince a girl to stay with him. Although there's a bit of minced English with the lyric "I just wanna be your lady", this is a great one. It goes out with an intense finale, too, so definitely worth listening to.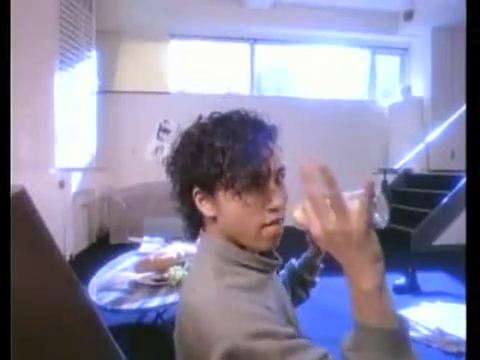 A music video is available for this one, too. It starts with Yasuyuki getting watching TV and dancing around in a basement apartment while an American girl behind him brings him food and gets dressed. She suddenly starts putting clothes in a bag, which Yasuyuki pulls out of the bag, and then she walks out on him.
3. Out In The Cold / 冷たくされても (4:08) - One of Yasuyuki's more obscure known songs, and while some will find the absolutely-eighties synth backing dated, it's really nice to listen to. This song initially reminded me of a cop movie soundtrack, and nowadays it reminds me of my high school graduation, so aside from the bleaker lyrics (another girl left Yasuyuki) this song's a pleasant experience.
4. Check Out Love (3:59) - If I ever make a list of my favourite Okamura songs, this is appearing on it somewhere. Another upbeat-sounding-but-breakup-song on the album, it's incredibly enjoyable, and the style of music that Yasuyuki would later employ on his next albums shines through.
This one too has a music video, although a strange one, with Yasuyuki waiting by a phone. Rapid frames compiled over the course of what must have been an hour show him wincing, huddled up, trying to call again, or gazing to the side or putting his head in his hands, with the occasional long shot showing him sitting next to a wicker couch. It's not at all what I expected, given the pace of the song, but it fits the lyrics.
5. First Time / はじめて (3:56) - A powerful but gentle song, rather moving to listen to once the violins and keyboard fully kick in. This is the first of the songs with a happier tone (i.e. he stopped getting dumped), and his voice is incredibly versatile here. Slow dance to this song, since it's a gorgeous one.
6. Water Bed (5:12) - This is considered Yasuyuki's first "erotic" song, as, well, it's about Yasuyuki wanting to do exactly what you think while on a water bed. The best way I can describe the style is a successful hybrid of Paisley Park-era Prince and young Yasuyuki. Most people who've dug far into Yasuyuki's discography mostly know this one as having the English chorus that goes, "I want to be dream to take you to my water bed." He also raps a bit in English near the end. Basically, this song's a funkier, billingual "Home Tutor", but with none of the moaning at the end.
7. Rain (4:57) - Suddenly, boom, the most intense song on Yellow appears! Judging by the lyrics, Yasuyuki got dumped again and he's none too happy about it. It's an interesting combination of Yasuyuki's rather soft voice and the fierce backing instruments. Adding some star power, Kenji Kitajima, member of 80's rock group Fence of Defence, does the guitar on this piece and he absolutely shreds it here.
8. She's A Science Teacher / 彼女はサイエンスティーチャー (3:17) - This is another really fun but obscure Okamura song, mostly classic American in style, and it's about being in love with a young middle school teacher. There's a lot of English lyrics in this one, which steadily became the trend of Yasuyuki's later music. The last few lines of the song are even, "I'm king of the world, baby, I just wanna love youuu." This is a really, really enjoyable song, in short.
9. White Courage (4:39) - Here we reach the perfect end for this album. We close off with a happy song about romance, so things with the young teacher must have worked out. Yasuyuki plays the piano for this one, his voice is particularly versatile, and this is another song not a lot of people pay attention to, but it really deserves much more. It's the perfect closer and one of his sweetest tracks.
Overall
A reserved and gentle but very enjoyable J-Pop album. People not quite familiar with Yasuyuki Okamura might find the album to be just-above-average eighties fare, but for an Okamura fan, it's a great look into how much his style has evolved over the years and what he's capable of. It's also great to have all his classic singles together in
one obtainable release.
Now, let's get to those b-sides I mentioned earlier, along with another single that didn't appear at all on CD for years...
Out Of Blue with Ten Thousand Years Of Pain
Originally released December 1, 1986
This song's had a bit more exposure, as the first crop of Yasuyuki Okamura fans would have picked up this single right away. Another thoughtful breakup song with a sharp synth sound, this song fits right in with the rest of Yellow. I'm quite fond of this one but it's only available on record, and on a special disc of b-sides that only came in a huge box set called The Big Book Of Okamura, which is incredibly hard to find these days and rather pricey when you do. But, at this time of writing, a Japanese Youtube user has converted Maria from record to MP3, and I strongly recommend checking it out while you can.
Young Oh! Oh! with Maria
Originally released May 21, 1987
I'll get right to the point; Maria is a badass song! It's hyper and extremely upbeat, absolutely one-upping Young Oh! Oh!'s tone, and it's an incredible shame that it's only available on EP and in the Big Book Of Okamura deluxe set. This song is also available on Youtube from the aforementioned record ripper, so go check it out! It's got the same musical style as She's A Science Teacher and the lyrics are happy, and this song definitely needs your love.
Dog Days with Shining
Originally released July 22, 1987
Dog Days is a really, really lovely song, and it comes with the first Okamura music video that told a story. Like a lot of his early songs, it's very gentle, but from this point you can hear his voice become more and more what it was like in the DATE-through-Home Tutor era, so we're looking at an interesting transition here. The whole song is very sweet and with a fascinating blend of instruments. Shining too is a really good one, sharp and easy to dance to, with a really positive message telling you to let go of bad memories and do all you can to make your life one for the better. I particularly like the lyric, "There's no success in rock and roll without a little effort."
Both songs are available on CD on "Precocious" (早熟), originally released in 1990 but rereleased in early 2012.
The music video for Dog Days follows a very young Yasuyuki trying to win over a girl on a seaside date, but it doesn't go well after he's caught looking at other girls on the beach. From there he meets another girl, played by Kahori Fujii (whom would later go on to play Eriko in "What Do You Want Me To Do For You"). Eriko seems to like him, but after there's some awkward tension between Yasuyuki, Eriko and the first girl all meeting at once, Eriko goes away. From there, it concludes with Yasuyuki back at the beach and the text, "It's dg days for everybody."
A lot of the locations in this video appeared in "What Do You Want Me To Do For You", like the baseball diamond and the bridge Yasuyuki and Eriko first meet on. Kahori's even got the same outfit as Eriko for much of the film.
All music videos I mentioned earlier are available on DATE In Short Pictures, which was released on VHS in 1988 and on jewel case DVD in 2003, complete runtime 23 minutes. The only song from DATE is "19", and the set list is as follows:
1. Out Of Blue
2. Check Out Love
3. Young Oh! Oh!
4. Dog Days
5. 19