LUPIN: Hey there, everybody! Welcome to the first installment of The Lupin Show. I'm your host, the talented, infamous and well-hung Arsene Lupin the Third.
LUPIN: You've probably been hearing on this site's associate links that I was ordered around Christmas time, and now I'm going to be part of a series of photo comics. This is sort of a big deal, but I'm only one of two Revoltechs in this collection.
LUPIN: So, like, why don't you donate via Paypal so I can get Jigen imported, or maybe a chick like Lum? Ah, who am I kidding, I know none of you are gonna give me money.
LUPIN: Here's the other Revoltech here, Miss Rei Ayanami of Neon Genesis Evangelion, also the first figure in the Fraulein line.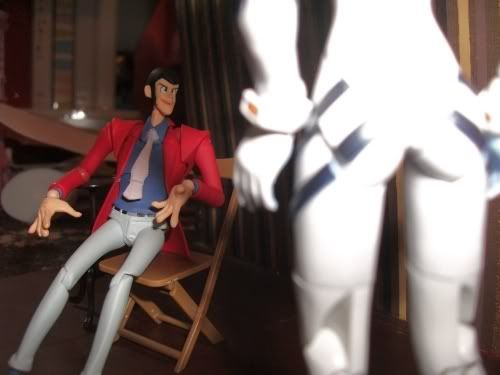 LUPIN: Also, if you consider she was 14 in 1995, technically she's 31 this year, which sits a whole lot better in my books. Assets aside, tell me about yourself, Rei.
REI: Well, it's really not easy being the first in any toy line. I'm durable, but it's hard to switch my hands, and I only have one face. Look at me! It's like I'm constantly sad and have to take a piss.
LUPIN: Sorry to hear that.
REI: Plus, my right arm falls off anytime I try to--
REI: Christ.
LUPIN: Um, you gonna be okay there?
REI: Yeah. I'm kinda used to this.
LUPIN: That's messed up, yo.
LUPIN: So...Evangelion is considered the Code Geass of the nineties, whatever that means.
REI: They both have a convoluted plot, some characters people can barely stand, and make ridiculous merchandise and spin-offs to pander to fans?
LUPIN: Probably something like that. So...tell me about your fans.
REI: Some of them are nice, but the others...the others get off to how emotionless and subservient I am. At least, that's how I am on set. They also put out the eighth Fraulein with a special version of me half-asleep in bandages, because that's how some people roll.
LUPIN: Man, why would they be into that?
REI: I don't know! It's been almost twenty years, there's been better Aloof Emotionless Anime Girls, but they all still want me!
LUPIN: I for one have to say Emotionless Zombie Girl is a stupid fetish, and the rest of my gang would agree with me if they were here. Besides, I like my girls a little...noisy.
REI: ...
REI: Lance of Longinus, attack!
LUPIN: OH JESUS, I WAS KIDDING!
TWENTY MINUTES LATER
LUPIN: Well, damn. I didn't even get to make a dick joke about the Lance of Longinus. Man...I wish Jigen were here so I could steal his cigarettes.
ASTRO: I think the Professor might have some! He's got everything in his house!
LUPIN: Thanks, shirtless kid! Where does he live?
ASTRO: In that fancy pink house about ten inches from your set.
ASTRO: Well, maybe eight inches. I never fully downloaded an imperial system codec.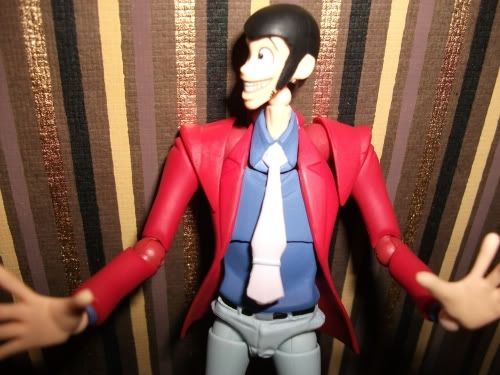 LUPIN: Sweet Jesus on a hang-glider, he must be loaded!
ASTRO: He's rich, all right! He's a member of Interpol, a famous engineer and a roboticist!
LUPIN: Ick, Interpol...but man, I bet he's got actual Picassos on display!
ASTRO: Here, I'll go ask him for you!
LUPIN: Shit.
ASTRO: Professor, have you got any cigarettes?
GO: What?! Why would a nine year old be looking for cigarettes?
ASTRO: That guy over there wants them!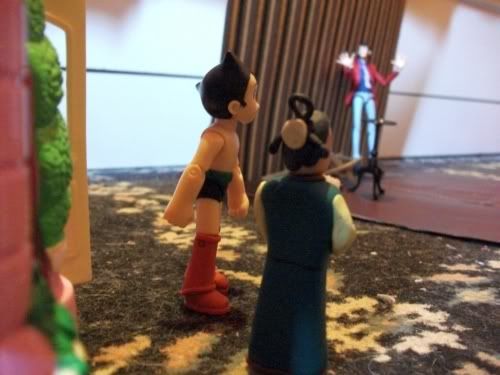 LUPIN: Astro, it's cool! Never mind!
GO: Lu...Lu...Lupin the Third...?!
GO: *faint*
ASTRO: Darn, not again.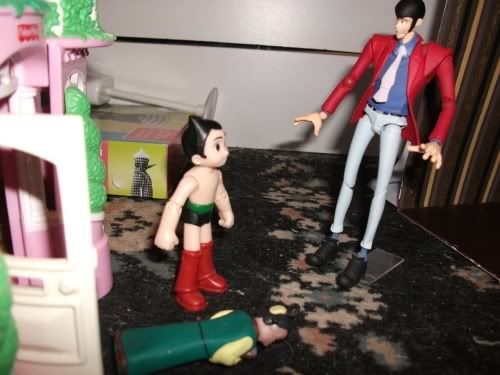 LUPIN: Oh man, he fainted?!
ASTRO: Yeah, sometimes he does that. The Professor's a pretty nervous person.
LUPIN: Well, we can't just leave an unconscious Chinese guy on the lawn! We've gotta get him somewhere safe!
ASTRO: Here, I've got the door!
CHUJO: Hey! What the hell are you doing with my husband?!
FIVE MINUTES LATER
LUPIN: Jesus, I've been out of my box for an hour, and two people have wanted me dead!
ASTRO: Chief, we're sorry about this.
CHUJO: Please, don't be. I looked at the situation wrong, and saw a Franco-Japanese man three times my size carrying a half-conscious Go off while Astro was grafted to the door.
GO: This sort of happens a lot. Now, don't mind me asking...who was the first person who wanted to kill you?
LUPIN: R...Rei Ayanami.
CHUJO: That woman's erratic. I'm so sorry.
CHUJO: Here, please accept this as a token of my apologies. We've never drank any of this, since the entire bottle would potentially be lethal.
GO: How did you wind up with a bottle of wine the size of your body, anyhow?
CHUJO: Frankly, I can't remember, and part of me doesn't want to.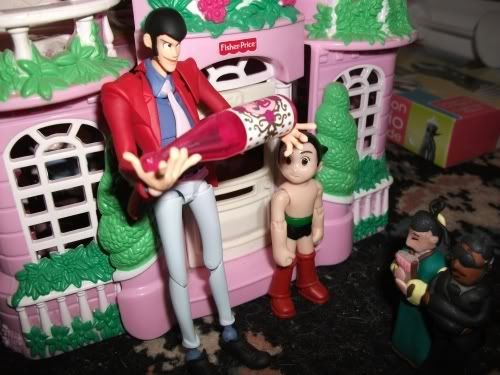 LUPIN: Awesome! You two are officially the coolest vertically-challenged gay couple I've ever met.
CHUJO: I will accept that as a complement.
LUPIN: Well, aside from almost getting hit with a giant tuning fork and a glowing fist, this has been a pretty good morning! Kid, do you wanna be my temporary sidekick?
ASTRO: I'd love to! When do I start?
LUPIN: Well, hopefully between the time when I finish getting drunk off my gourd, and the time when my buddy Jigen shows up.
ASTRO: Yay!
ASTRO: Life is good!
TO BE CONTINUED!