CHIEF CHUJO: All right, it has officially been determined that Mr. Ryouji Kaji has been murdered by an unknown assailant last night. Due to the circumstances, we had thought Axe Jim was to blame, but realized his axes were in lockup on the other end of town. Officer Doublecuffs and that convict have not been seen in days.
PROFESSOR GO: We do, however, want to complete the calendar in Kaji's memory at least.
CHIEF CHUJO: But, safety for all is priority. That's why we're keeping one of our former temporary members...
CHIEF CHUJO: ...The vastly larger Roy Fokker. Take it away, Roy.
ROY: Let's get this thing open...
ROY: Hey, it's the rest of that shack! This beats the bag of fire and fish from the other day!
PINKIE PIE: OH GEEZ OH GEEZ WE NEED TO PUT THIS TOGETHER RIGHT NOW
REI: If we acquire an actual police officer, we will finally have 4/6th a house for him to stay.
PINKIE PIE: GUYS HELP ME PUT THIS TOGETHER I HAVE ONLY HOOVES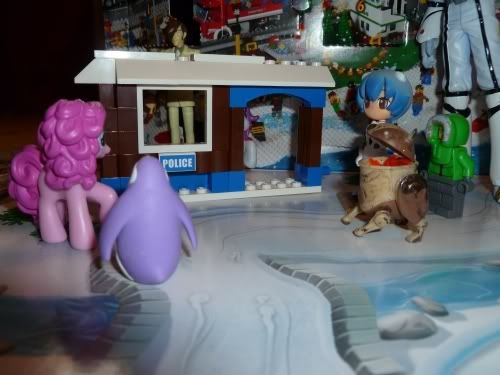 REI: I am glad that the disproportionate siding has not impaired its ability to stand.
TRASHCAN: BARK
PINKIE PIE: Christmas is almost complete!
CHIEF CHUJO: They'll forget it by December 29th.
PROFESSOR GO: I have a dinette set that would look just darling in the middle of it.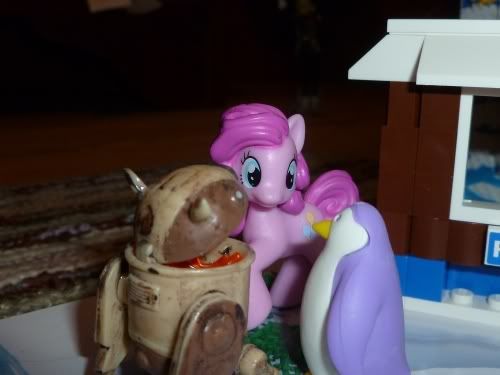 PINKIE PIE: See, you guys? Everything's gonna turn out okay!