REI: This morning, we discovered that Mr. Kaji was unable to attend today's calendar meet, with all assumptions that he is still at home with a flu. In place of him, I have invited one of our supporters to help out...
REI: ...Mr. Roy Fokker.
PINKIE PIE: Heyyy, Roy again!
ROY: Let's rip this mutha open!
PINKIE PIE: What is it?
ROY: I'm not drunk when I say this, but it's a bag of flames, pieces of wood and a fish.
REI: At least that combination would make sense if we were intoxicated.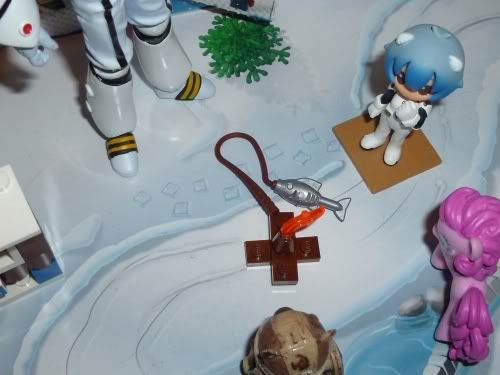 ROY: So...yeah, this is what you got today. Are all the presents this lame?
PINKIE PIE: We're gradually getting a house!
REI: We also got a Christmas tree, too.
ROY: Well, at least you'll be able to sit indoors while you burn this poor fish to death.
PINKIE PIE: I'm making sure nobody's eating this guy, and now his name is Murphy Flaps!
MURPHY FLAPS: ♥
MEANWHILE!
PYCAL: Hey, Kaji, man...the kids are all worried about you. I don't think we met properly yet, but I brought some soup in a Thermos of you're not feeling--
PYCAL: AAAAAAAAAAAAAUUGHHH
PYCAL: WHY DOES THIS KEEP HAPPENING?!