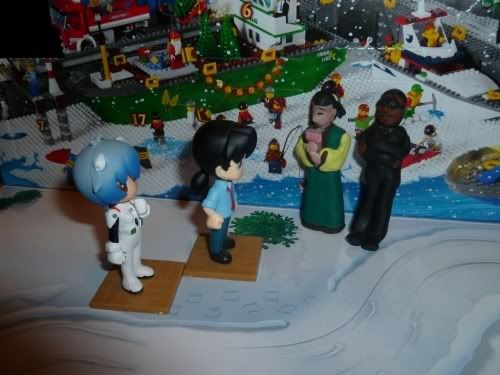 PROFESSOR GO: I'm not mad at you for what happened with yesterday's gift.
CHIEF CHUJO: I am profoundly mad.
PROFESSOR GO: I've determined that it won't be impossible to recover it in the next few days; we just need to keep an eye out.
CHIEF CHUJO: Go, it's a tiny man that comes apart!
PROFESSOR GO: I can be depressed by the situation later!
KAJI: We still have that weird white, cylindrical piece, right?
PROFESSOR GO: Unfortunately, no. Pinkie took it home only to have it go missing, but a broken window proves that it must have been stolen.
KAJI: Ouch.
PROFESSOR GO: Which is why I've invited reinforcements in case today's gift goes wrong...
PYCAL: 'Sup.
REI: How is your finger able to sustain a flame without causing searing pain?
PYCAL: Assuming that's not what's going on right now?
CHIEF CHUJO: All right, I'll open it this time...
REI: It is a...bag. Of parts.
KAJI: Are there instructions in there?
CHIEF CHUJO: Nothing at all, just this bag of random pieces!
KAJI: Ah, of course there wouldn't be any instructions! This calendar's like a manufactured kick in the mansack!
REI: Perhaps the professor would be able to assess these pieces for a defined shape.
PROFESSOR GO: Oh Rei, you're right! Everybody step back for a moment...
PROFESSOR GO: Here we go! It's some sort of manually-operated slingshot device!
CHIEF CHUJO: That's my boy!
KAJI: Why would they have this in Lego City...?
PROFESSOR GO: Rei, since you were the one who inspired me to fix this, would you like to test it out first?
REI: Yes.
*tonk*
REI: That was truly remarkable.