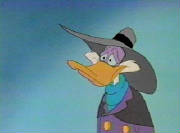 Darkwing Duck [A.K.A. Drake Mallard]
Voiced by Jim Cummings
Darkwing Duck is St. Canard's vigilante crimefighter, a father and office worker in his off-hours. He has a short temper, is reserved, and is extremely protective of his adopted daughter Gosalyn. In his superhero mode, is very determined and hates to be overshadowed by others (i.e. Gizmoduck, Quiverwing Quack). He falls for and begins dating the witch Morgana, much to Launchpad's abhor.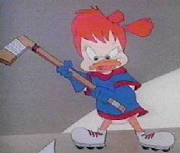 Gosalyn Waddlemeyer/Mallard
Voiced by Christine Cavanaugh
Gosalyn is Darkwing/Drake Mallard's adopted daughter, a tomboy who was formerly raised by the inventor Professor Waddlemeyer. She now lives with Launchpad and Drake, her best friend being the neighbor boy Honker. She is independant and bold, loves sports and her father's crimefighting (much to his chagrin), eventually making her own persona called Quiverwing Quack.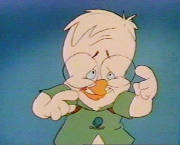 Honker Muddlefoot
Voiced by Katie Leigh
The youngest son of the Muddlefoot family, whom live next to Drake Mallard. Honker is a smart, shy young kid, close friends with Gosalyn and tormented by his older brother Tank. He is well aware of the fact that Drake and Darkwing are the same person, and later joins Gosalyn's crimefighting stunt as The Arrow Kid.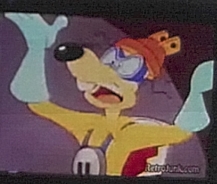 Megavolt [A.K.A. Elmo Sputterspark]
Voiced by Dan Castellaneta
Megavolt, formerly known as Elmo, was one of Drake Mallard's classmates in the mid-1970's. He acquired the ability to manipulate electricity through a science project accident, causing him to lose most of his memory. He lives alone in a lighthouse, obsessive and maniacal, his only friends being "rescued" lightbulbs and Quackerjack.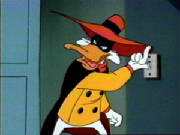 Negaduck
Voiced by Jim Cummings
Coming from an alternate dimension, Negaduck is the sadistic polar opposite of Darkwing, and the leader of the Fearsome Five. He hates anything cutesy, and carries around a variety of weapons, bombs and chainsaws being his favorites. He is extremely volatile, and keeps the rest of his team in line fairly easily. On occasion, Negaduck has been attracted to Morgana.